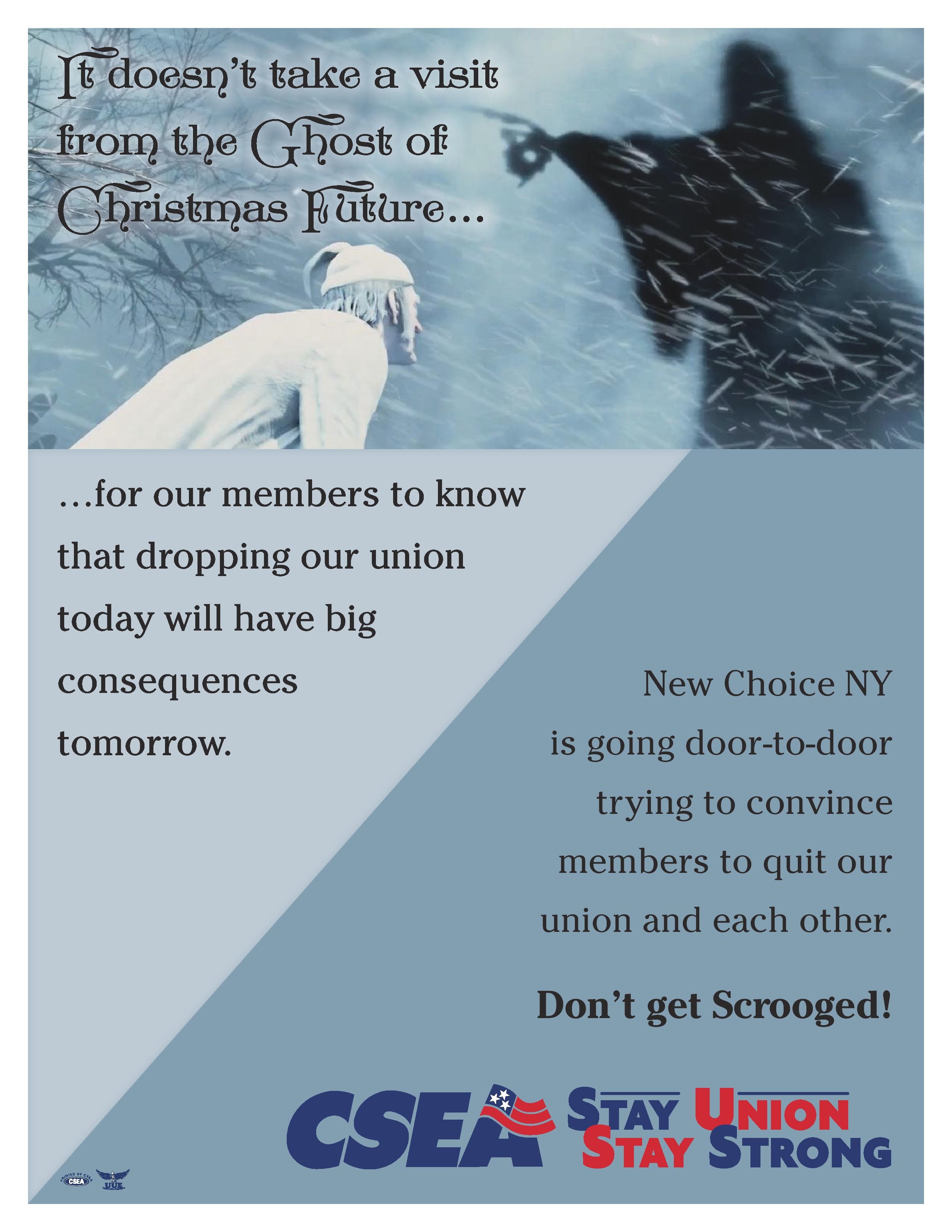 To: CSEA Activists
RE: NEW CHOICE NY
Dear CSEA Leadership:
We know early December is always a busy time, but we must share a bit of urgent news with you. Our nemesis – New Choice NY – is visiting CSEA, PEF and other union members in our Western Region area. We have heard reports they are on the ground in suburbs north of Buffalo and in Niagara County. We also know they are attempting literature drops and door knocks for the next few days. They are urging and "educating" our members to opt out of our union.
We are asking that you prepare yourself, other officers and your members for these visits, whether by email, Facebook, member meeting, or a lunch and learn. We are also asking you to share your stories publicly about confronting our unwelcome guests. If you have any questions regarding this request, please contact Ove Overmyer at 585-354-1613.
Here are a few talking point suggestions to inform your members:
New Choice NY is a corporate funded organization that claims to educate union members on their choices.
FACT: Union members have always had a choice to be a union member or a nonmember and CSEA is complying with the change in law decided by the Janus case.
New Choice NY is currently 'educating' members that they can give themselves a $500 + raise (Christmas present) by opting out of their union.
FACT: Members already have the right to opt out. However, if they do opt out they risk losing more than they gain. If a majority of members quit the union, there will be no contract left to protect workers and their families. Also, the Empire Center has made it clear they think this decision is going to save government millions of dollars by reducing our salaries, make us pay more for health insurance and minimize our retirement savings. It's all in an attempt to satisfy the greed of corporate entities and silence the voice and power of unionized working people. Chances are, if members opt out, the $500 in savings they would receive over a one year period will probably be the last raise they will ever see in their entire working life.
New Choice NY is educating members they will get everything in the contract whether they pay dues or not.
FACT: Not true. If you opt out of the union, you will not be represented on disciplinary or grievance matters, you will not be eligible to vote on union contracts or voting for your union officers. You will also not be able to attend union meetings, and you will not be able to access additional union benefits that go above and beyond which is written in the collective bargaining agreement. More importantly, you will lose your voice at work and become an "at will" employee. You could be fired for no just cause.
We would be more than happy to provide any other assistance you may need in setting up informational meetings or social media posts when sharing this information. Please contact your LRS, the region offices or a staff person if need be. Tell this outsider group New Choice NY they are not welcome in our state!
Thank you for all you do to keep our union strong.
All the best